What On Earth
Free What On Earth Slots Game
What On Earth is an alien themed video slot machine game. The theme is about aliens in orbit around earth and beaming people and objects into space. So the symbols include everything from alien ships, planets, moons, asteroids, and aliens. Since this is a video slots game, there are also the typical fruit symbols that are found in these types of slot machines such as oranges, melons, cherries, plums and more.
The free "what on earth" slots game has 5 reels with 9 pay lines. It is a penny slots machine that accepts coins as low as one cent and as high as one dollar. Players can then bet 5 coins for each payline with a maximum limit of $45 per spin! So this slots game is ideal for the high stakes players and also the low rollers who love low limit slots games.
This game contains just about every bonus feature on earth which ranges from free spins, scatter symbols, wild cards, multipliers and a bonus game. There are actually a few scatter symbols here that don't actually need to land on the pay lines in order to count. There is a wide list of multipliers that range from 3x all the way up to 400x. This means a single $1 bet can be turned into $400 just from a bonus multiplier.
There is also a mini-game or side game here as well. This bonus game is based on aliens beaming up earthlings in a type of contest. If you happen to beam up certain earth people in different geological locations on the globe, you can get a few 400x multipliers. There is a huge adventure in this game and you just have to play the game yourself to discover all the hidden features in the game. Click on the image below to instantly play the "no download" game with no registration required, unless you would like to play with real money. The game is powered by Microgaming and runs on flash software in your web browser.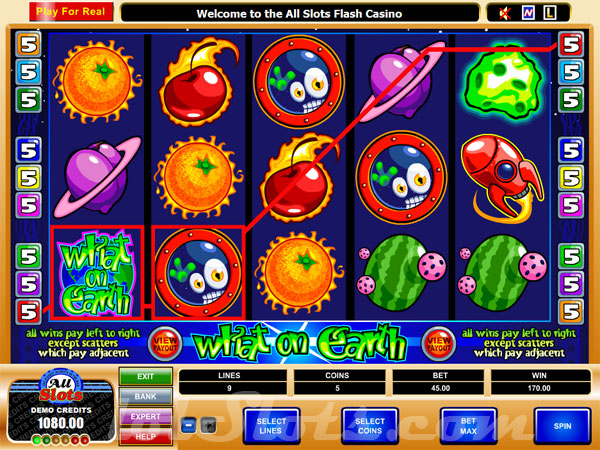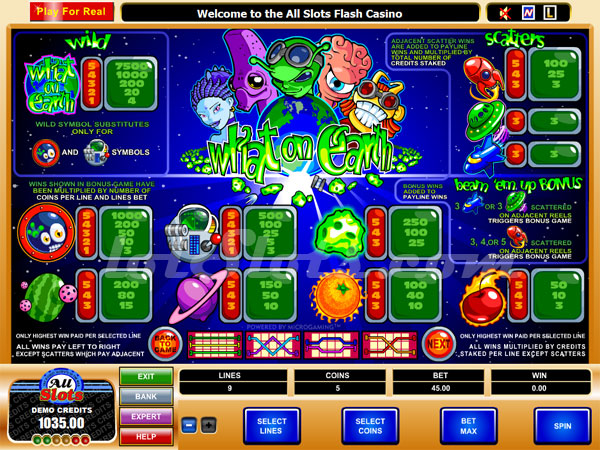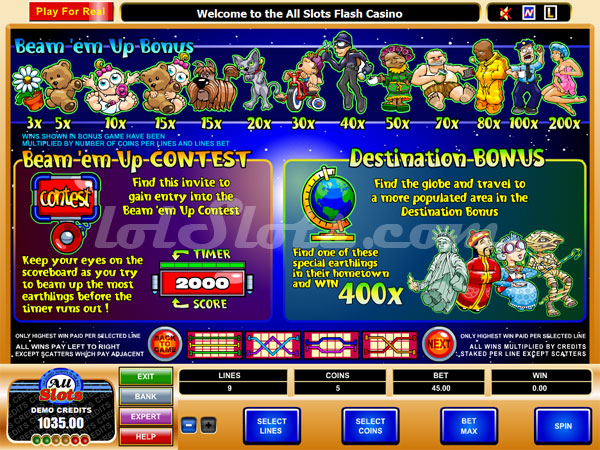 Click on the image above to instantly play the What On Earth slot machine game in your browser.
(Opens in separate window in full screen.)
* As of 2023, US players are unable to play the slot machine game listed above. US players please click the banners below or on the left side to visit free slot machine games at US-friendly casinos.