Vinyl Countdown
Free Vinyl Countdown Slots Game
Vinyl Countdown is an old style cafe themed slot machine based in the 1950's and 1960's diner era. Vinyl is a term for the classic phonographic records in which music was played in older generations. Much of the slot machine theme revolves around dancing and disco music. The game itself is a video slots game with symbols relating to the vinyl theme as well as diner foods such as sundaes.
Vinyl Countdown slots has 9 pay lines where players can bet one coin per line. Also, the minimum denomination coin is $0.25 so this is a quarter slot machine. Players can also bet one and two dollars per pay line as well by increasing the denomination value. The maximum bet limit per spin is $18 which is great for high rollers looking for higher stakes.
The game also has vinyl bonus rounds and special features in the game. Like almost all video slots, there are scatter symbols throughout the board denoted by the disco ball. These don't have to land on the pay lines in order to pay out. The jukebox counts as a wild symbol and the countdown symbol is needed for the jackpot. Other symbols include an Elvis Presley or Fonz looking guy and a girl. There are also theme images such as dancing shoes, milk shakes, banana splits, ice cream, cup cakes and other deserts from the diner. Then there are other vinyl and dancing symbols as well.
This game is powered by Microgaming and clicking on the images below will open a new browser window in full screen where you will instantly be able to play this free slots game. The game requires flash shockwave or macromedia to run on your internet web browser and no download is required. There is also no need for registration unless you plan on playing with real money. Don't forget, there are also over 400 other free casino and slots games that can be played and navigated to in this flash interface!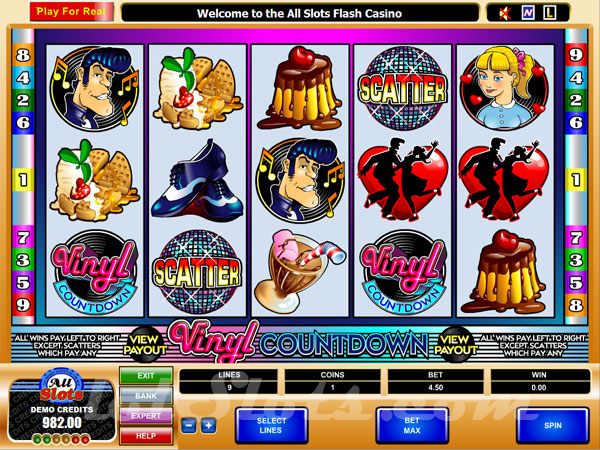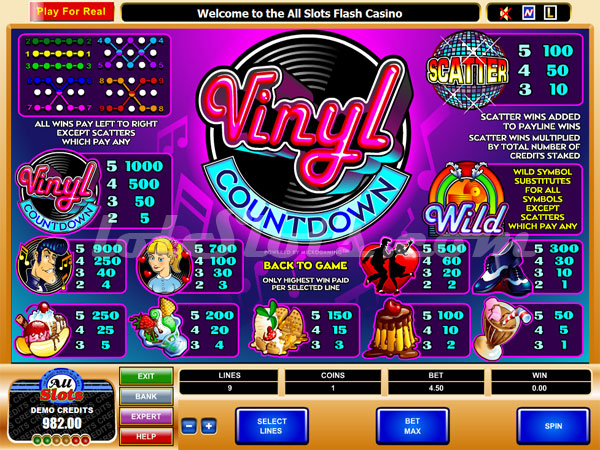 Click on the image above to instantly play the Vinyl Countdown slot machine game in your browser.
(Opens in separate window in full screen.)
* As of 2023, US players are unable to play the slot machine game listed above. US players please click the banners below or on the left side to visit free slot machine games at US-friendly casinos.