Tomb Raider
Free Tomb Raider Slots Game
Free tomb raider slots is a Lara Croft themed slot machine game based on the tomb raider movie starring Angelina Jolie. This game has a video slots setup with 5 reels and 30 pay lines. Players may bet 10 coins on each pay line making maximum bet of 300 coins. You can also choose your denomination as well from one cent up to twenty cents. This is actually a great penny slots game for the low rollers, yet high rollers can enjoy a maximum bet of $60 per spin!
The graphics are utterly amazing for a free flash tomb raider slot machine game and the game quality is sharp and smooth. Some players also know the game as "Secrets of the Sword". The game has free spins, scatter symbols and video story line based around Tomb Raider as most of the theme is based in ancient tombs and treasures. Another part of the theme is the "James Bonds" type of style with guns, explosions and agents, so the game has some action involved as well.
Other symbols include basic video slots symbols from the standard deck of cards such as 10s, jacks, queens, kings and aces along with the raider themed symbols as well. This game is powered by Microgaming software and the no download version works well on the Mac. To play this game, click on the image below and it will open up in a new browser window in full screen where you will be able to play tomb raider slots with no registration or sign up required. Remember that flash macromedia or shockwave is required. If you don't have this, click on the image and follow instructions to enable this slots game to work.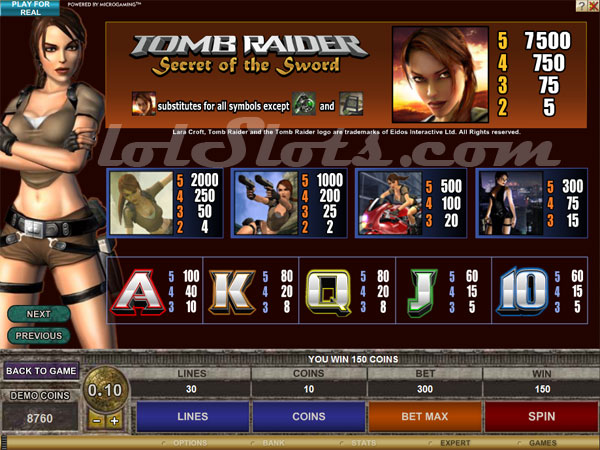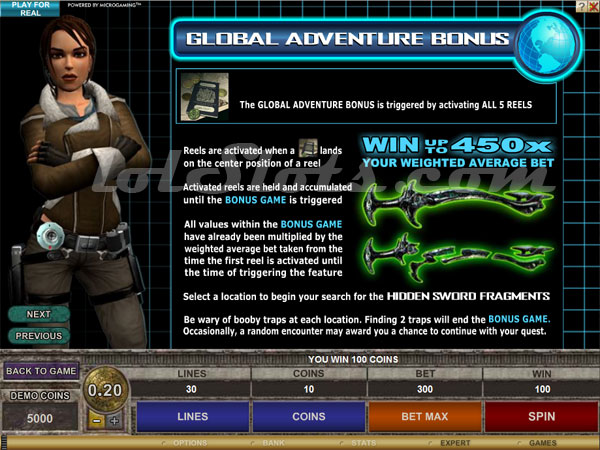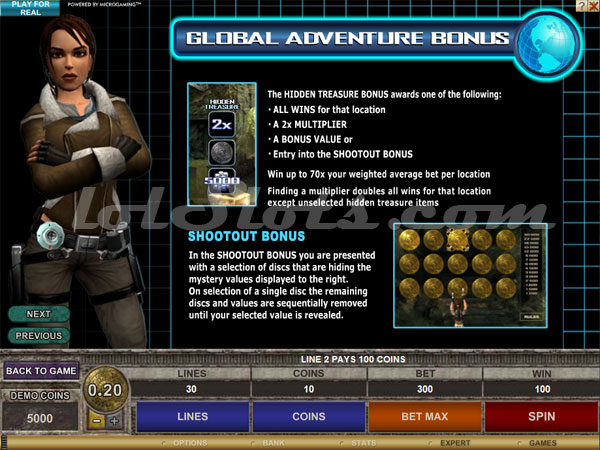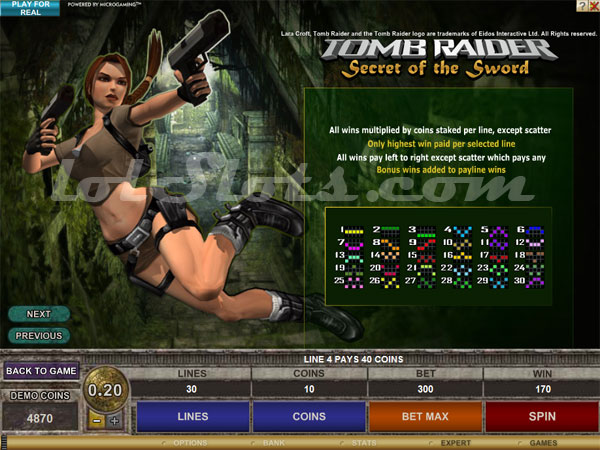 Click on the image above to instantly play the tomb raider slot machine games in your browser.
(Opens in separate window in full screen.)
* As of 2023, US players are unable to play the slot machine game listed above. US players please click the banners below or on the left side to visit free slot machine games at US-friendly casinos.