Stallionaire
Free Stallionaire Slots Game
Stallionaire is a western themed game based out on the range. The theme includes the stallion horse, horse shoes and horse racing. This slot machine is actually quite addicting to play because of the bonus game called "who wants to be a stallionaire?". There are all sorts of bonuses and multipliers as well as that board game where players can keep coming back to take turns and move around the board in order to win special bonuses.
The free stallionaire slots game itself is a regular 3 reel classic slot machine with a single pay line. The minimum bet is ten cents and the maximum coin denomination is ten dollars. So this game is great for players who enjoy penny slots and dollar slots. The game contains features typically found in classic slots such as single bars, double bars, triple bars and sevens as well as stallion themed western objects such as carrots, jockey equipment, cigars and fancy cars.
The major theme of this game is the horse shoes. On the typical symbols mentioned above, there are sometimes additional horse shoes in bronze, silver and gold colors. The objective is to collect these in different positions on the reels. These then go onto a tic-tac-toe type of board on the side. As you may have guessed, when you get a tic-tac-toe or a straight line through them, you will be given a turn in the stallionaire bonus game.
The bonus game looks a lot like a turn-based board game like monopoly where you can move through the squares. Each square has a stallion bonus or multiplier. The jackpot will give players a 500x multiplier. So if you had a $10 bet, there are many ways to get $5000 either through the bonus game or lining up the jackpot symbols along the pay line. You'll quickly discover how addicting this game is.
To play stallionaire for free, just click on the images below and a new internet browser window will open up in full screen. Players will instantly be able to play the no-download free flash game with no registration required (unless you want to play with real money). This game is also powered by Microgaming and there are hundreds of other free slot games just like this one that can be played online too!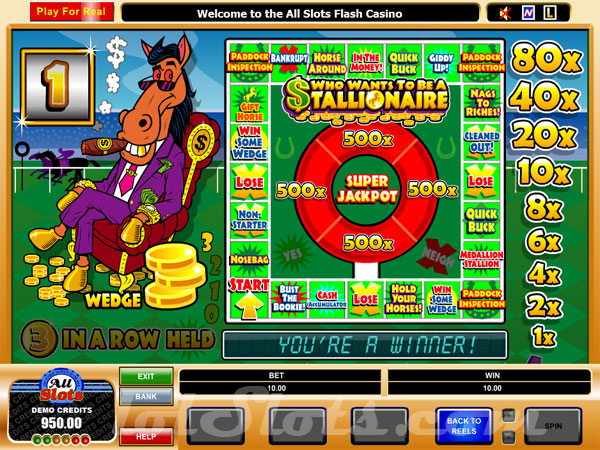 Click on the image above to instantly play the Stallionaire slot machine game in your browser.
(Opens in separate window in full screen.)
* As of 2023, US players are unable to play the slot machine game listed above. US players please click the banners below or on the left side to visit free slot machine games at US-friendly casinos.