Reels Royce
Free Reels Royce Slots Game
Reels Royce slots is a spin off title for the Rolls Royce motor car. This classic slot machine has a theme about the Royce but most of the symbols in the game resemble all of the common classic ones. This is a very simple game to play with multiple pay lines, which is great for novice players. Also, the odds for this game are very good so payouts will happen extremely frequently, especially for the jackpots.
This game has three classic reels but also three horizontal pay lines. The coin denominations range from quarters to five dollars ($0.25 to $5), making this game great for those who like to play on the quarter slot machines and the dollar ones. The maximum slots limit for this machine is $15 per spin while betting on all three pay lines, which is great for the high rollers, especially with the high payout percentage with this machine.
The symbols in Reels Royce include many of the classic ones such as the black bars, single bars, double bars and triple bars. Players can complete a combination of any of these bars to win the smaller payouts. The higher symbol is the red seven and finally the blue seven with a red border surrounding it. There are only 5 unique symbols to this game, which make this one the Rolls Royce of frequent payout slots. Also, the Royce seven symbol is for the jackpot, which can be as high as 4000 coins when wagering the max bet.
Free Reels Royce slots can be played by clicking the image below. A new browser window will open up in full screen were this game will load up in Flash. The game is powered by Microgaming and there are 400 other free slots and casino games that can also be played when this window loads. The games are free to play and no download is required. No registration is necessary either unless you want to play with real money. So the game loads up and is instantly read to play with no forms to fill out or submitting email addresses!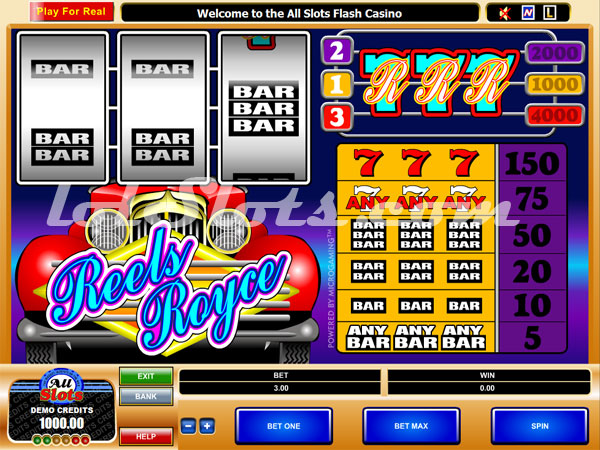 Click on the image above to instantly play the Reels Royce slot machine game in your browser.
(Opens in separate window in full screen.)
* As of 2023, US players are unable to play the slot machine game listed above. US players please click the banners below or on the left side to visit free slot machine games at US-friendly casinos.