Pirates Paradise
Free Pirates Paradise Slots Game
Pirate's paradise slots is a classic pirate themed slot machine based in the Caribbean and out on the high seas. The front of the screen shows parrots dressed as pirates so you know this is going to be a great game. This game has unique symbols and is fun to play. The odds and payouts for this game are very nice and frequent so this game is very entertaining and exciting to play as well. Get your pirate hat on and raid some booty in this online slots game today!
This game has a classic three reel setup with a single pay line along the center of the board. The coin denominations range from a quarter to five dollars ($0.25 to $5) and players may wager up to three coins per spin. Therefore the maximum bet limit for this machine is $15 per spin, which is great for high stakes slots players. Also, the jackpot is 2500 coins when betting $5 valued coins. So the largest paradise jackpot would be $12,500. This is not as large as many other games but because of this, the pay outs are more frequent and so is the jackpot.
Pirates paradise has exotic symbols in this game and most are either paradise or pirate themed. The sea shells act like traditional red cherries where even one or two of them along the pay line will pay out some money. The next highest symbols are what would normally be the black bars, except they are denoted by tropical palm trees on islands. So players win when three islands with one tree, two trees or three trees show up on the pay line. Also, players win with a combination of any of these paradise islands.
The higher symbols include the common black pirate flag with the skull and bones on it. The jackpot symbol is denoted by the treasure chest full of booty such as gold, gems and jewels. Players can also get a payout if a combination of any of the flags and treasure chests appear on the pay line.
To play free pirates paradise slots, click on the image of the game below. A new full screen browser window will open up where you will be able to instantly play this game for free. No download is required and no registration is needed unless you decide on playing with real money. This game operations on Flash Macromedia and Shockwave and is powered by Microgaming technology, which also has over 400 free casino and online slots games that can be played through this Flash window.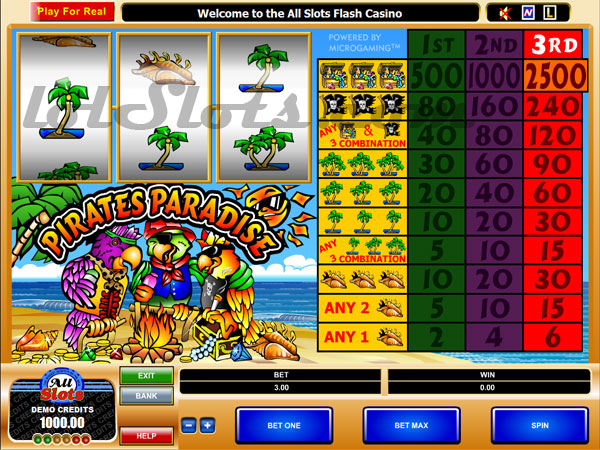 Click on the image above to instantly play the Pirate's Paradise slot machine game in your browser.
(Opens in separate window in full screen.)
* As of 2023, US players are unable to play the slot machine game listed above. US players please click the banners below or on the left side to visit free slot machine games at US-friendly casinos.