Pharaohs Fortune
Free Pharaohs Fortune Slots Game
Pharaoh's fortune slots is another ancient Egyptian themed slot machine based on relics from the past and ancient treasures. The atmosphere of the game resembles a pharaoh's tomb and the inner chambers of the pyramids of the Nile. This game also includes the famous King Tut and mummies found during this time period along with other golden artifacts. This game is simple and the odds are good so play this exotic slot machine and beat the pharaoh to win the valuable fortunes!
This is a classic slot machine which has 3 reels and a single pay line along the center. The coin denomination sizes in this game range from $0.25 to $5.00 and is great for people who like quarter and dollar slots. Players may also wager three coins per spin for the maximum fortunes upon payout. This means the maximum betting limit for this machine is $15 per spin for the high stakes slots players.
Pharaohs fortune has many of the classic symbols such as the single bar, double bar and triple bar. Although in this game, the symbols are golden and more artistic. Instead of the classic cherry, the Scarab beetle relic is put in its place. Only one or two of these are required for pay outs if they land on the pay line. Besides the Scarab symbols, which are usually found in pharaoh's tomb, there is also the pyramid symbol and finally the gold and blue King Tut mummy head. Players can win with any combination of this golden head and pyramid as well as any bar combinations. The Tut symbol is needed for the jackpot of 2500 coins when playing with 3 coins.
Free pharaohs fortune slots can be played by clicking the image of the online game below. A new browser window will open up in full screen and the game will run in Flash instantly. The game is free to play and no download is required. No registration is needed either unless you decide to play with real money of course. This Flash slots game is powered by Microgaming, which also has 400 more free slots and casino games that can be played in this Flash window.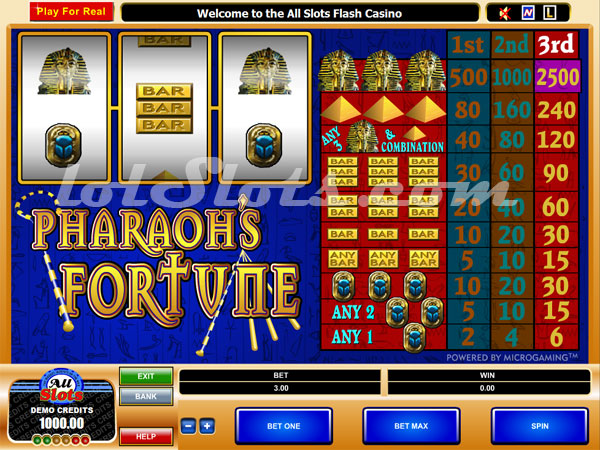 Click on the image above to instantly play the Pharaoh's Fortune slot machine game in your browser.
(Opens in separate window in full screen.)
* As of 2023, US players are unable to play the slot machine game listed above. US players please click the banners below or on the left side to visit free slot machine games at US-friendly casinos.