Party Time
Free Party Time Slots Game
Party time slots is a fun and exciting game to play and it has a party theme to it. This machine is colorful and unique in its theme but the game rules itself are unlike most slot machines as well as some of the symbols. This time the game resembles a mostly classic slots game but with a few variations to the traditional rules. So get in with the party and play this game to kill some time.
This game has 3 classic reels with a single pay line along the center. The coin denomination sizes range from a quarter to 5 dollars ($0.25 to $5) so this is a great quarter slot machine and dollar slots game. Players may wager a maximum of 3 coins per spin for a machine limit of $15 per spin of the reels. This is great for the high rollers and a good time to win huge prizes.
The symbols used on the reels are slightly similar to classic ones such as the "bar" symbol except with a touch of party themed objects displayed on top of them. There are also red cherries and pink sevens in the game. The red cherry pays out even if two of them land on the pay line, but not one. Three of them pay out more of course. The party themed symbols include a cocktail glass, a bottle of champagne and a musical jukebox. The drink glass and champagne are on top of the bar symbols and players also win payouts with any bar combinations as well.
The rules in this game are slightly different. Depending on the number of coins you wager, you can win certain prizes. For example, betting one and two coins allows players to win with all the symbols except the jackpot. This means that the jackpot can only be won by wagering three coins. The symbol for the jackpot is the party time logo and the jackpot pays out 9000 coins.
Free party time slots can be played by clicking on the image below. A full screen browser window will open up where you can play this game in Flash Macromedia or Shockwave instantly. The game is free and no download and no registration is required unless you want to play with real money or have faster access to the games. This slot machine is powered by Microgaming, one of the best casino software at this time which has 400 other free slots and casino games online that can be played in this Flash window.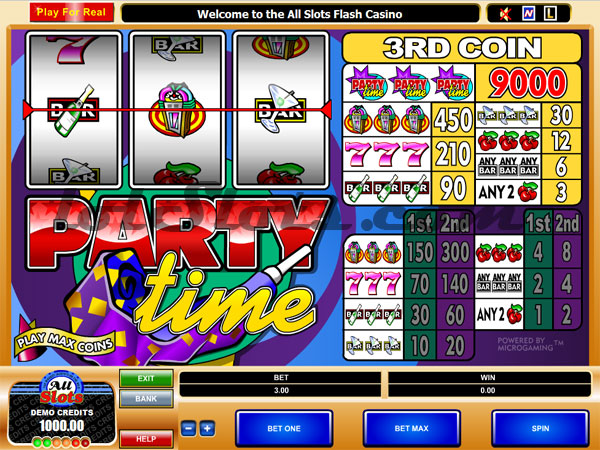 Click on the image above to instantly play the Party Time slot machine game in your browser.
(Opens in separate window in full screen.)
* As of 2023, US players are unable to play the slot machine game listed above. US players please click the banners below or on the left side to visit free slot machine games at US-friendly casinos.