Monkeys Money
Free Monkeys Money Slots Game
Monkey's Money is the name of a free slot machine that can be played online. This game is based on a monkey and the theme that goes along with jungles and apes. The objective of the game is to win money from the monkey as well as collecting bananas along the pay line. This is a simple game to play and there aren't many complicated features and symbols to use in the game.
This free slot machine has a single pay line along the center of the screen with three reels. Technically, this game would be of the classic variety and tends to be great for beginners due to the simplicity. Players can wager coin sizes between a quarter and five dollars ($0.25 to $5.00) and can bet two coins per spin. Therefore the maximum betting limit for the monkey machine is $10 per spin for a jackpot of 3000 coins or a possible $15000 jackpot.
The symbols used to win money are similar to the typical classic ones such as black bars such as single, double and triple bars. What would normally be red cherries are now replaced with bananas, which are a monkey's favorite food. The banana symbol pays out even if one or two land on the slots pay line. Players also win pay outs on any bar combination as well. Higher up on the pay schedule is the red 7 followed by the monkey face with sun glasses. The monkey counts as wild and substitutes for any other symbol and is required for the jackpot.
This game is powered by Microgaming technology, which is extremely reputable in the industry. Free monkeys money slots can be played by clicking on the image below. A new browser window will open up in full screen where players can play the game using Flash Shockwave or Macromedia plug-ins. No download is required and no registration is needed unless you plan on playing with real money. There are also 400 other free slots and casino games that are accessible from this Flash window while playing this game. Once you play this monkey slot machine, you will be going bananas for more money!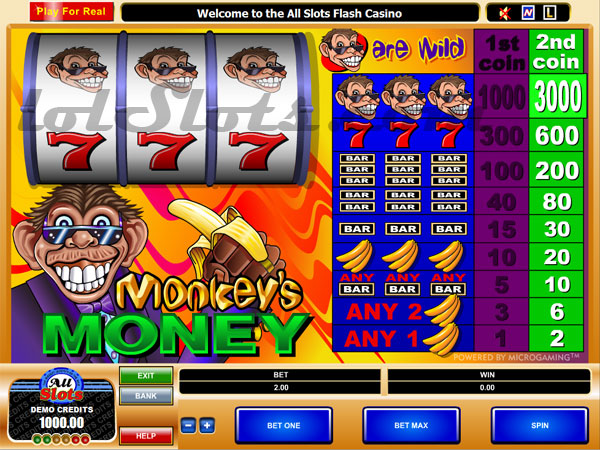 Click on the image above to instantly play the Monkey's Money slot machine game in your browser.
(Opens in separate window in full screen.)
* As of 2023, US players are unable to play the slot machine game listed above. US players please click the banners below or on the left side to visit free slot machine games at US-friendly casinos.