Lucky Barstard
Free Lucky Barstard Slots Game
Lucky Barstard slots has the cleverly misspelled name from "lucky bastard" by replacing "bas" with "bar". This is because all the symbols in this game are part of the classic bar slots with single bars, double bars and triple bars. This is a classic game so the theme is right in line with typical 3 reel classic slot machines. This game also has a single pay line as well.
Lucky Barstard also has a theme based on a game show host or nicely dressed guy from Las Vegas. Besides the barstard symbols mentioned above, there are also yellow and red bars. The bonuses are activated when connecting any three black bars on the pay line. If you get three wins like this in a row with the black colored bars only, then you will be taken to the bonus game with the game show host.
The bonus game will allow players to win anything from 25x to 250x multipliers on the original wager. There is also a yes or no choice for repeaters in the side game as well. Back in the normal slots game, players can also get options to nudge and hold the reels in order to try spinning the slots a lucky second time to win a better prize. Players can also be given the option to gamble for more nudges up to 4 nudges of the reels, which makes it a very good chance of winning something on Barstard.
This game is powered by Microgaming and can be played by clicking on the image below. A new browser window will open up in full screen and you will be able to play this game instantly with no download required. There is also no registration required unless you would like to play with real money of course. Finally, there are over 400 online casino games in this flash interface and over 200 of them are slots.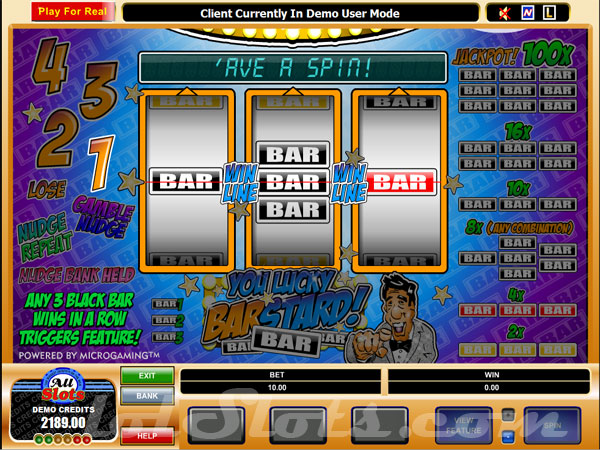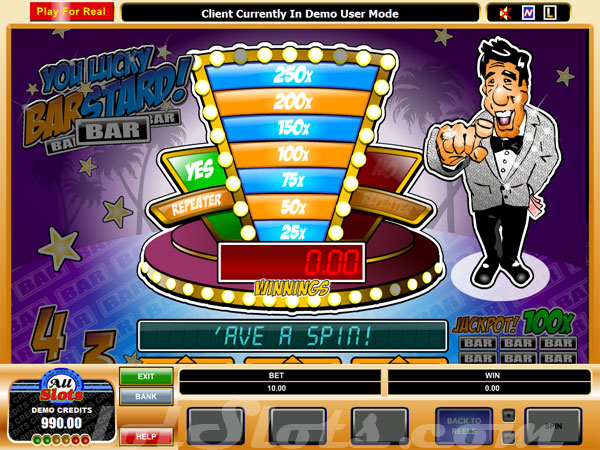 Click on the image above to instantly play the Lucky Bastard slot machine game in your browser.
(Opens in separate window in full screen.)
* As of 2023, US players are unable to play the slot machine game listed above. US players please click the banners below or on the left side to visit free slot machine games at US-friendly casinos.