Jurassic Jackpot
Free Jurassic Jackpot Slots Game
Jurassic Jackpot slots is a prehistoric themed game with dinosaurs, jungles and bones. The game is based off of the famous movie Jurassic Park and it is a lot of fun to play just as the movie was entertaining to watch. This Jurassic themed slot machine is just as suspenseful as the movie when waiting for the jackpot. Because of the lower payouts on the pay schedule, a medium sized jackpot tends to hit more frequently!
This game has 3 round reels and a single pay line along the center. Players may bet coin denominations that range from $0.25 to $5, making this game a great quarter and dollar slot machine. Players may wager up to two coins per spin so the maximum limit per spin is $10 for the high rollers. The jackpot is then worth 1600 coins or worth potentially $8000. If you are playing with dollar sized coins, the chances of getting a $1600 jackpot are much higher than normal in this type of game.
Jurassic Jackpot could be named Jurassic Park Slots because of the similarity to the movie and the symbols in the game. There are many of the classic symbols such as the single bars, double bars and triple bars except this game has a twist. These bars are fossilized to fit the theme and players can win a payout with a combination of any bars. In place of what would be red cherry symbols, there are red flowers found in the jungle. Get one or two on the pay line and you will win some payouts. Though, getting all three has a higher payout.
The higher symbols include the Jurassic dinosaur bones or fossils. Then the highest symbol is the T-Rex or Tyrannosaurus head. This is also required for the jackpot and it serves as wild. If one of these is used to complete a combination, the payout will be twice as large and if two are used, the payout is four times as large. They also substitute for any symbol including the prehistoric tropical flowers.
Free Jurassic jackpot slots can be played by clicking the image below. The Flash game will open in full screen in your browser window and you'll be able to play for free. Also, this game is powered by Microgaming and no download is required and no registration is needed unless playing for real money. There are also 400 other free Microgaming slots and casino games besides this one that can be played in this online Flash window.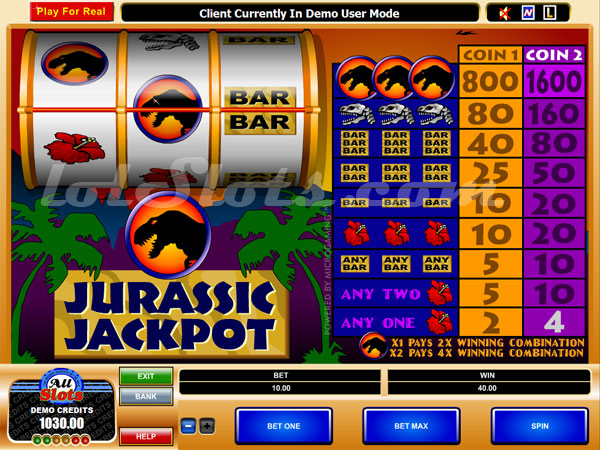 Click on the image above to instantly play the Jurassic Jackpot slot machine game in your browser.
(Opens in separate window in full screen.)
* As of 2023, US players are unable to play the slot machine game listed above. US players please click the banners below or on the left side to visit free slot machine games at US-friendly casinos.