Jesters Jackpot
Free Jesters Jackpot Slots Game
Jesters Jackpot slots is a classic slot machine with a theme about a jester. This joker or court jester is seen throughout the game and if you catch the right symbols, then players can win the jackpot. This is a traditional slots game but there are a few minor differences to this game along with the symbols. This Microgaming powered slots is fun and entertaining to play just as watching a jester is, so go ahead and play this game.
This game has 3 reels and a single center pay line. This is also a quarter slots and dollar slots game as the coin denominations range from $0.25 to $5 sizes. Note that players may bet 3 of these coins for the pay line. Therefore the maximum bet limit for this machine is $15 per spin, which is nice for the high rollers and high stakes slots players.
Jester's jackpot has many of the same symbols found in a classic machine. One of these is the black bar, but there is only a single bar. Then there is a jester's bar which has a high pay out in the game but it is not the jackpot. Players can win with a combination of any of the bars as well. There are red cherries in this game as well. Like the classic game, only one and two of them are required to land on the pay line for a pay out, but usually that is small unless you get all three along the line. Finally the jesters hat is the jackpot symbol, get three of these and you win 2400 coins.
Free jesters jackpot slots can be played in a Flash browser window in full screen by clicking the image of the game below. No download is required and no registration is needed unless you are playing for real money. Don't forget, there are over 400 other free slots and casino games to play in this Flash window and the casino supports 17 languages and many currencies.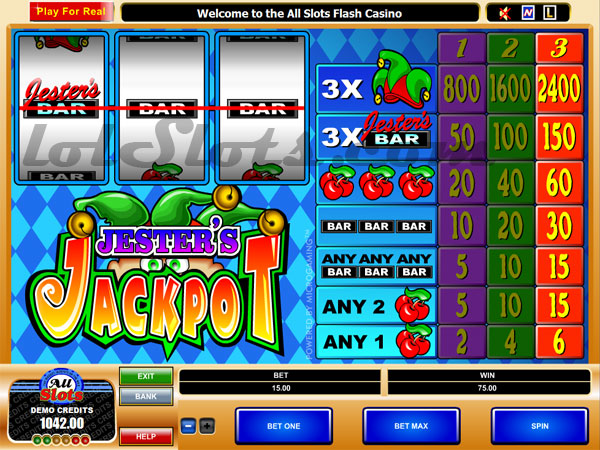 Click on the image above to instantly play the Jester's Jackpot slot machine game in your browser.
(Opens in separate window in full screen.)
* As of 2023, US players are unable to play the slot machine game listed above. US players please click the banners below or on the left side to visit free slot machine games at US-friendly casinos.