High 5
Free High 5 Slots Game
High 5 slots is a colorful and unique game with a lot of features and bonuses. The payouts are enormous for a classic slots game like this on and there are huge multipliers for the game as well. The theme of the game is loud and classy with bright and bold colors. There is also a strategy to get some high winnings while playing for the jackpot and for other winning combinations. This is also one of the Vegas classics on the internet.
This slot machine has 3 reels and a single pay line. This machine accepts denominations of coins ranging from a quarter to five dollars ($0.25 to $5) so this is great for people who enjoy playing on the quarter slot machines or dollar slots. Players may wager three coins in one spin so high rollers have a maximum bet limit of $15 per spin at this game for some really high payouts.
High 5 has many of the classic slots symbols such as the black bars and red cherries. These include single bars, double bars and triple bars of multiple colors. Players can also win on a combination of any bars. For the red cherries, only one or two are necessary to win some payouts as well. Higher up on the pay schedule is the blue sevens with red bars on them and the red sevens. Again, players can win with combinations of any sevens as well.
Then there are the high 5 symbols which are wild and substitute for any other symbols. Although they do not substitute for cherries but they do payout if two of them land on the center line. If one high five symbol is used to complete a winning combination as wild, a payout multiple of 5 will be awarded. If two of these are used, a whopping 25x payout will be given! This means you would win 25 times more than the normal payout.
There is also a strategy used in this game, which is to bet the maximum number of coins. The reason for doing this is because of the jackpot payouts. When betting a single coin, the high 5 jackpot is only 2000 coins. Doubling the coin wager will allow for a jackpot of 5000 coins which is more than double the jackpot for betting a single coin. Finally, if you bet three coins, the jackpot skyrockets to 15000 coins, which is more than seven times what would be won while betting with just one coin. The overall payout odds are greatly increased.
Free high 5 slots can be played for free by clicking the image below. A new browser window will open up in full screen and this slots game will load up using Macromedia Flash or Shockwave. No download is required and no registration is needed unless you are playing with real money. This game is powered by Microgaming and there are over 400 other free flash games to play in this browser window.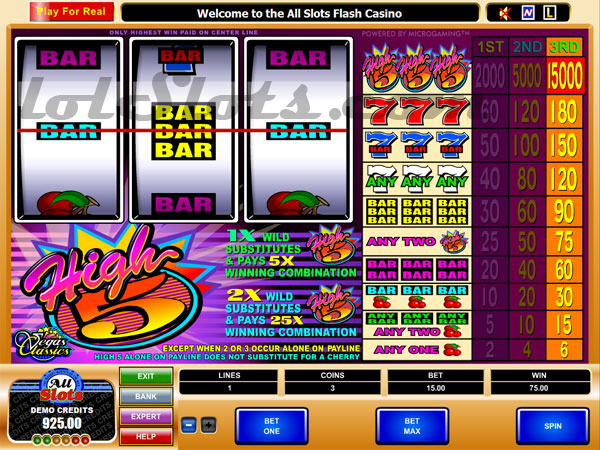 Click on the image above to instantly play the High 5 slot machine game in your browser.
(Opens in separate window in full screen.)
* As of 2023, US players are unable to play the slot machine game listed above. US players please click the banners below or on the left side to visit free slot machine games at US-friendly casinos.