Goblins Gold
Free Goblins Gold Slots Game
Goblins Gold slots has a theme about a goblin based in a cave or gold mine. This machine is unique because of the way the game is set up and the symbols being used. Symbols found in traditional classic slots are used in this game, only with a small touch of gold. Also, the mining shaft slot machine gives players a great chance of walking out with a sack of gold and a lot of fun.
This game has 3 reels and 3 pay lines where players can wager one coin per pay line. The gold coin denominations range from $0.25 to $5, making this game great for both quarter slots and dollar slots players. Because of the three reels, high rollers can bet as much as $15 per spin, which is the maximum bet limit of the machine. As always, the strategy is to bet the maximum coin amount because the jackpot size per number of coins ratio is highest.
The symbols in Goblin's Gold include those in classic slots. Instead of black bars, there are gold bars such as single bars, double bars and triple gold bars. Players can win some money with any bar combinations as well. Other symbols include the goblin's lantern and a bag of gold from the mine. Finally there is the jackpot symbol of the goblin itself, which is wild and can substitute for any other symbol.
Free goblins gold slots can be played by clicking the image below. A new internet browser window will open up and players can play the game in full screen. No download is required and no registration is needed unless playing for real cash. This game used Flash Macromedia or Shockwave to operate and the game is powered by Microgaming. There are also over 400 free flash slot games and casino games online in this window as well.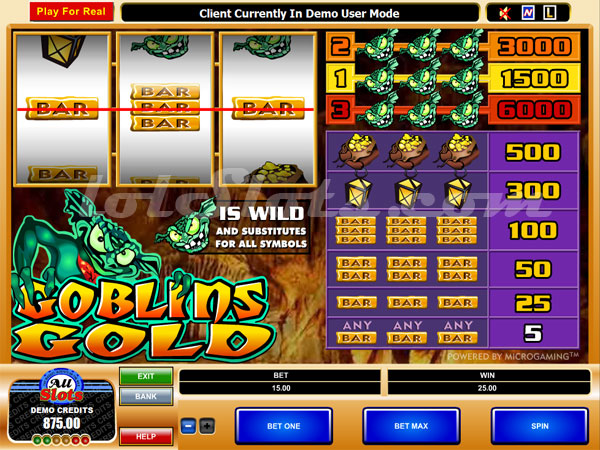 Click on the image above to instantly play the Goblin's Gold slot machine game in your browser.
(Opens in separate window in full screen.)
* As of 2023, US players are unable to play the slot machine game listed above. US players please click the banners below or on the left side to visit free slot machine games at US-friendly casinos.