Gladiators Gold
Free Gladiators Gold Slots Game
Gladiators Gold slots is a gladiator themed slot machine based in the ancient Roman times when they used to do sword fighting and other battles in the Coliseum in Rome, Italy. This is a very simple classic slots game with multiple pay lines and the payout odds are great for this game. Like the Coliseum, this gladiator slots game is golden and very entertaining for those who play it.
This game has 3 reels and 3 pay lines. Players can use denominations of coin sizes ranging from a quarter to five dollars ($0.25 to $5). Players may also bet one coin per pay line so that maximum betting limit of this machine is $15 for the high rollers. The 3 pay line machine isn't so common but the game is simple to learn as there are few symbols, which make this game great for beginners who don't want to play a complicated game.
Gladiators Gold has many of the classic symbols such as single bar, double bar and triple bars. Players can win with any winning combination of these black bars as well. Higher up is the gold sevens and the red sevens with Roman gold seals on them. The red ones are the jackpot symbols but players can also win with a winning combination of any seven as well. So there are really only five unique symbols in this game. The chances of getting the jackpot and higher prizes are much higher.
Free gladiators gold slots can be played instantly by clicking the image of it below. A new web browser will open up in full screen and the game will load up Flash so that it can be played in seconds. No download is required and no registration or information is needed unless you want to play with real money. Also, this game is powered by Microgaming and there are over 400 other free slots and casino games that can be played online for free in this browser window.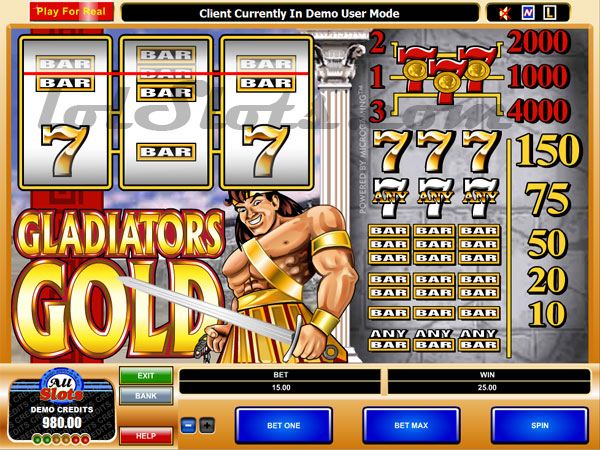 Click on the image above to instantly play the Gladiators Gold slot machine game in your browser.
(Opens in separate window in full screen.)
* As of 2023, US players are unable to play the slot machine game listed above. US players please click the banners below or on the left side to visit free slot machine games at US-friendly casinos.