Game On!
Free Game On! Slots
Game On! is the name of the Animal World Cup 2006 slots game. It is 2009 at the writing of this article, but the game itself is a nice safari themed slot machine game with animals such as giraffes, lions, snakes, vultures and elephants, that can be played in your browser. As you play the game, it has a pinball game sort of feeling as the graphics light up and the pay table is viewed.
Game On! slots is a three reel machine with a single pay line with only a single bet. The denominations range from 10 cents to 10 dollars per spin so it is great for both low rollers and high roller players. There are many different features in animal world cup 2006. Some of these include huge multipliers as high as 1000x. That means a single $1 bet would turn into $1000 on a single multiplier bonus round.
Besides the wide range of multipliers, there are also a few nudge features. In some cases, you can do repeated nudges, gamble nudges and bank held nudges. These depend on soccer balls, which is part of the main world cup theme of Game On! These soccer balls act much like a scatter symbols which are not required to land on the pay line. Lastly, there is also a feature that allows you to hold some of the reels. This works well when you want to hold some good symbols and re-spin the wheel to try getting a connection along the pay line to win.
To play this slot machine, click on the image below to open up a new browser window. This is a "no-download" game so it will instantly play in your browser and you won't need to register unless you want to play for real money. Also, this is a Microgaming powered slots game and there are literally hundreds of slots games that can be played in this free flash interface along with other online casino games like blackjack, roulette and much more.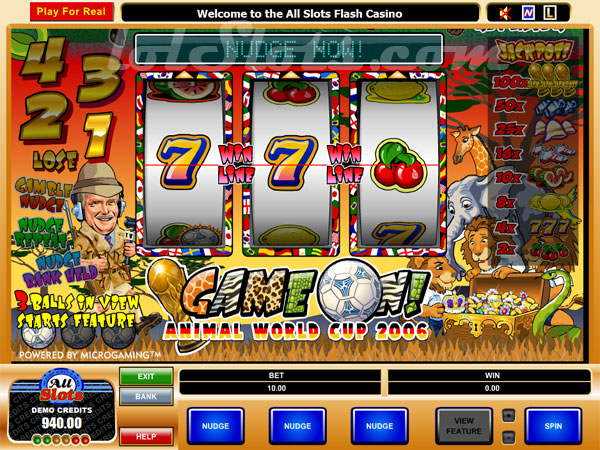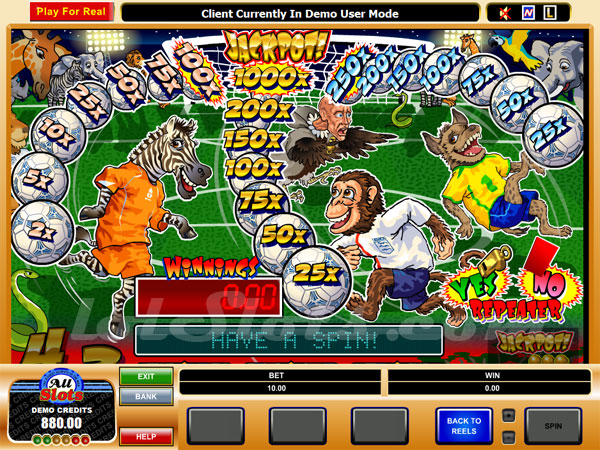 Click on the image above to instantly play the Game On! slot machine game in your browser.
(Opens in separate window in full screen.)
* As of 2023, US players are unable to play the slot machine game listed above. US players please click the banners below or on the left side to visit free slot machine games at US-friendly casinos.