Fruit Slots
Free Fruit Slots Game
Normally fruit slots is found on a video slot machine but this one is a classic version of the game. If you enjoy classic fruit slots, then you will enjoy this sweet fruity game. The theme of this game is based around the different kinds of colorful fruits. The different kinds are common with traditional machines so this is your good old slots game that you find in casinos all around. There is also a strategy with this game as well.
This slot machine has 3 reels and a single pay line. The coin denominations that can be used range from $0.25 to $5 so this is a quarter slots and dollar slots machine online. So for the high rollers, the maximum bet limit per spin on this machine is $15 which is pretty high stakes. The strategy in this game is to bet the maximum number of coins possible which would be three.
For instance, if you bet 1 coin and win the jackpot, you win 250 coins, if you double your wager to two coins, the jackpot prize also doubles to 500 coins. Now if you bet 3 coins, you would expect the jackpot prize to be 750 coins. Instead, the jackpot soars sky high to 2500 coins, which is 10 times more than a single coin jackpot! Because of this, your overall mathematical odds and payout percentages increase because of the greatly increased winnings per wager ratio, so this one of the only times you can use strategy in fruit slots.
Fruit slots has many of the classic fruit symbols on the reels such as watermelons, plums, oranges, lemons and cherries. Players still win some payouts if only 2 cherries land on the pay line. The higher symbols include the black bars such as single bars, double bars and triple bars commonly found in old time slot machines. Finally the fruit basket symbol with all the different kinds of fruits counts as the jackpot symbols. You can get one or two of these on the pay line to win some cash, just like the cherry symbol.
This slot machine is powered by Microgaming and can be played instantly by clicking the image below. A new browser window will open in full screen with the Flash Macromedia or Shockwave player interface. Players will then be able to play free fruit slots with no download required. No registration is needed unless you want to play with real money. Remember that there are over 400 free casino and slots games that can be played online in this Flash casino window besides this one.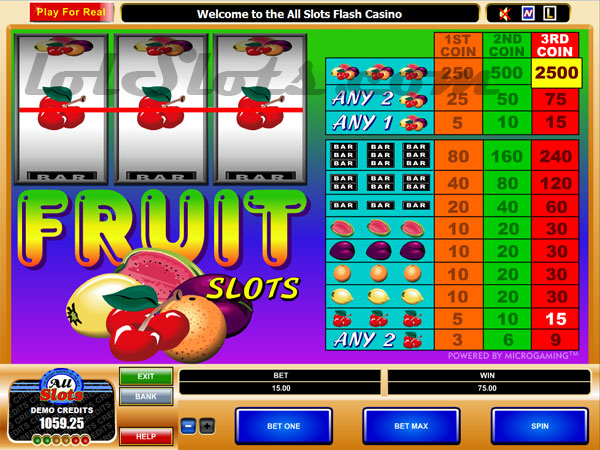 Click on the image above to instantly play the Fruit slot machine game in your browser.
(Opens in separate window in full screen.)
* As of 2023, US players are unable to play the slot machine game listed above. US players please click the banners below or on the left side to visit free slot machine games at US-friendly casinos.