Flower Power
Free Flower Power Slots Game
Flower power slots is an extremely unique game both in the symbols being used and in the theme. Not only that, the style of slot machine is actually not too common because of its three pay lines. The theme is based in the 1970's during the hippie days and Woodstock. Symbols such as the peace sign and flowers are used and the flashing colors are psychedelic and colorful in this game.
Flower power has 3 reels and 3 pay lines. The coin denominations that can be used range from $0.25 to $5.00 and players may bet one coin on each of the pay lines. This means the maximum wagering limit for this online slot machine is $15 per spin for the high rollers. There are not too many symbols in this game so the payouts tend to happen more frequently and this just makes the game even more fun.
This is generally a classic slot machine because of the three reels and the symbols. The typical symbols include black bars such as single bar, double bar and triple bar marks on the reels. Although these bars have different colors and colorful flowers ranging from blue, red and yellow. The higher valued symbols include a rainbow flower and a rainbow colored peace symbol. Finally there is the groovy multicolored flower power jackpot symbol. This symbol is also wild and substitutes for any other symbol on the payout chart.
The free flower power slots game can be played by clicking on the image below. A new web browser window will open in full screen where players can instantly play the free flash game. No download is required and no registration is needed unless you are playing with real money. This game is also powered by Microgaming technology and there are hundreds of other free slots and casino games that can be played in this flash window as well.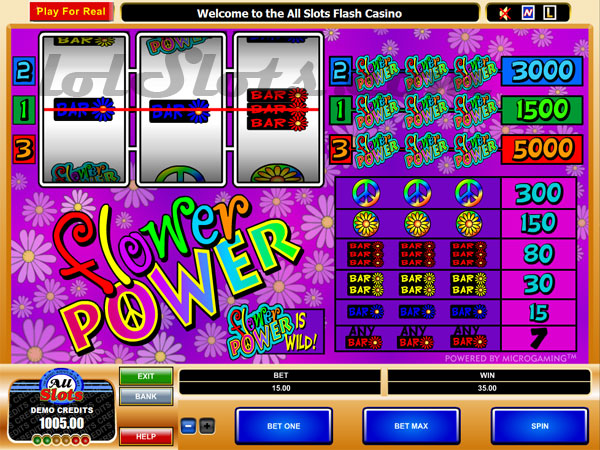 Click on the image above to instantly play the Flower Power slot machine game in your browser.
(Opens in separate window in full screen.)
* As of 2023, US players are unable to play the slot machine game listed above. US players please click the banners below or on the left side to visit free slot machine games at US-friendly casinos.