Crazy Crocs
Free Crazy Crocs Slots Game
This slots game is about a bunch of crazy crocs and the theme is based in the water. It is a simple slot machine with not too many special and complicated features and it uses many of the old traditional slot symbols in the game along with the crocodiles. Also, this game does have a mini-jackpot if the crazy crocodiles line up outside of the pay line.
This classic slots game has the typical black bar symbols such as single bar, double bar and triple bars. Then there are also the red sevens for the higher valued prizes. Note that players can line up any bar to win as well. The crocodile symbol serves as the traditional red cherry because one or two of them can pay out a prize if they land on the pay line. Also, the crocs are used as a free wild symbol that substitutes for any other.
This game has 3 reels and a single pay line. Players can wager coin denominations between $0.25 and $5. So if you are into quarter slots and dollar slots, you will be looking at some crazy fun with this game. Also, players can wager three coins for higher payouts upon hitting the croc jackpot where winnings as large as $25000 can be won. So the maximum bet limit for this slot machine is $15.
Free Crazy Crocs slots can be played by clicking the image below. A new browser window will open up in full screen with a whole flash casino suite. No download is required and there is no registration necessary unless you are playing for real money. This game is also powered by Microgaming technology and there are over 400 free online slots and other gambling games to play.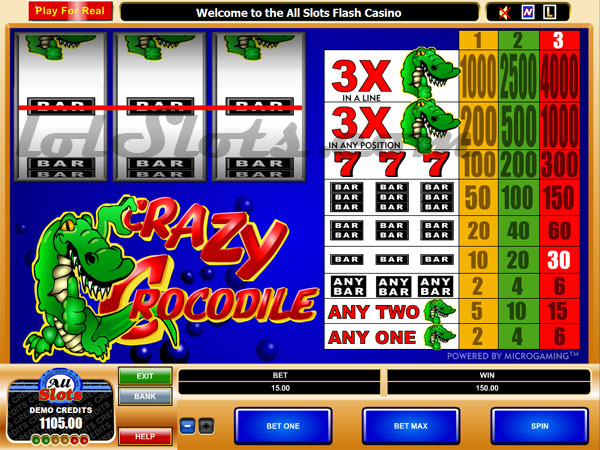 Click on the image above to instantly play the Crazy Crocs slot machine game in your browser.
(Opens in separate window in full screen.)
* As of 2023, US players are unable to play the slot machine game listed above. US players please click the banners below or on the left side to visit free slot machine games at US-friendly casinos.