Crazy Chameleons
Free Crazy Chameleons Slots Game
Crazy Chameleons slots is an exotic and unusual name for a slot machine game. A chameleon is actually a type of lizard or iguana and the theme of this game is based on these chameleons and the ocean. Particularly, the atmosphere of the game is at the beach and surfing out on the waves. There are all sorts of beach boys type of themes in this game which is based on a crazy pack of chameleons surfing.
Crazy Chameleons is a video slots game with 5 reels and also 5 pay lines. Players may bet one coin per pay line as well. This is actually a small number of pay lines compared to most video slots so you don't need to bet as many coins. Also, the coin denominations range from $0.25 to $5 so this is a crazy quarter and dollar slots game with a few bonus features.
The symbols include many of the common ones found in video slots such as the top cards in a standard deck of poker cards. This includes the 10s, jacks, queens and kings. Aces are not used here. Other symbols include surf boards, swimming trunks, the smiling sun, the seagull and of course the Chameleon. There is also a free wild symbol that substitutes as any other symbol and this is denoted as an ocean wave. This is a simple game with not that many complicated bonus games and symbols.
Free Crazy Chameleons slots can be played by clicking the image below. Another full screen browser window will open up and you will be able to play the game in seconds. Also, no downloads are required and no registration is necessary unless you are going to play with real money. This game is powered by Microgaming and this flash casino hold over 400 online slots games and casino games that can also be played for free.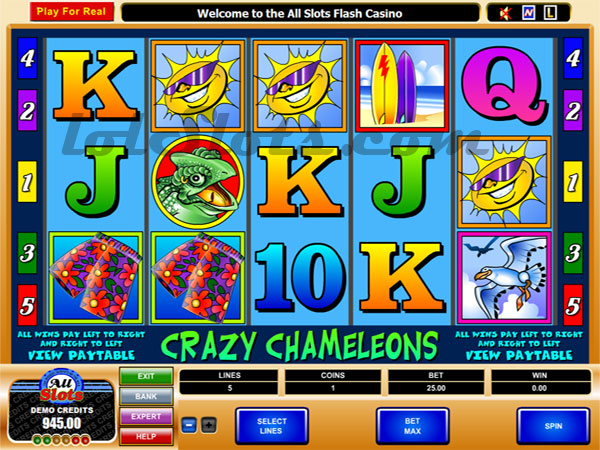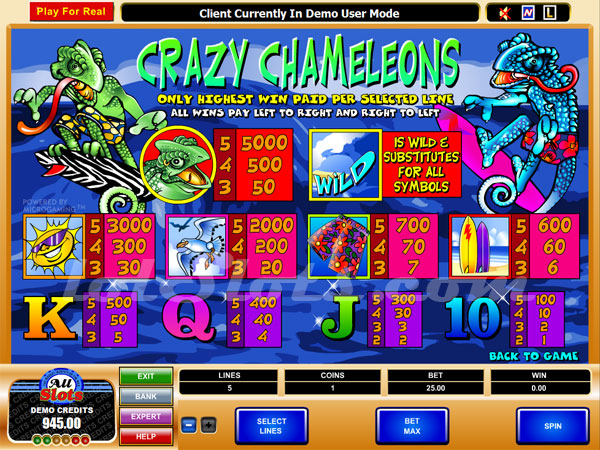 Click on the image above to instantly play the Crazy Chameleons slot machine game in your browser.
(Opens in separate window in full screen.)
* As of 2023, US players are unable to play the slot machine game listed above. US players please click the banners below or on the left side to visit free slot machine games at US-friendly casinos.