Cracker Jack
Free Cracker Jack Slots Game
Cracker Jack is a firework and explosive themed online slot machine game. The background and atmosphere is colorful and full of life. This game is not based on the Cracker Jack popcorn candy. Instead, this game has more similarity to the firecrackers and entertainment that comes with fireworks like this. Also, this is one of the classic slot machine games with great payout odds.
This classic slot has 3 reels and a single pay line. The minimum bet is a quarter and the maximum bet is five dollars, which is typical in land based casinos and slot machines. You can also bet two coins for each pay line, so the maximum bet limit of this machine is $10 per spin, which is nice for the high rollers. For low stakes slots players, 50 cents is the max bet.
The game has the typical symbols in classic slots like the black bars. So there is single bars, double bars and triple bars of different colors. Players can also match any bar to win. The fire crackers act as red cherries, only one or two of them need to be on the pay line in order to win. There are also purple sevens and the cracker jack symbols, which act as free wild cards and substitute for any other symbol. Also if one of the jack symbols substitute for another symbol and win, the player gets twice the winnings and if two of them substitute, the player wins four times as much.
To play this free flash game, click on the image below and a new browser window will open in full screen. You will then be able to instantly play this game in seconds with no download required and no registration, unless you are playing with real money. Also, these games are powered by Microgaming and there are over 400 other slots and casino games to play besides the free cracker jack slots.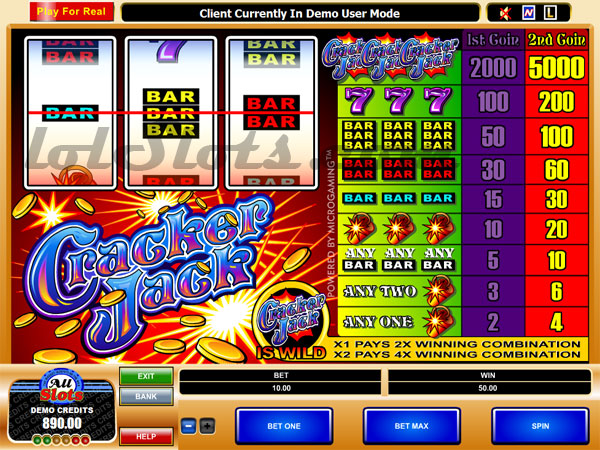 Click on the image above to instantly play the Cracker Jack slot machine game in your browser.
(Opens in separate window in full screen.)
* As of 2023, US players are unable to play the slot machine game listed above. US players please click the banners below or on the left side to visit free slot machine games at US-friendly casinos.