Couch Potato
Free Couch Potato Slots Game
Couch Potato slots is has many features and is based around a potato on a couch. There is some good strategy involved in this game with great payouts. The features are also more generous than many slot machines as well and offer huge multipliers. The great thing about this game is it can be played in the comfort of your home and your couch when playing online slot machine games.
This is a classic slot machine with 3 reels and a single pay line. Players may use coin denominations ranging from 25 cents to 5 dollars and a maximum bet limit for this game is 3 coins or $15 per spin. The potato strategy is to wager the maximum bet or three coins per spin. The reason is the jackpots. If you are betting one coin, you can win 2000 coins. You would think that doubling your bet to two coins would yield a jackpot of 4000 coins, but it is actually 5000. If you bet all three coins, you would win a 15000x jackpot rather than 6000!
The symbols in the game include couch potato themed things like food and TV. Like the classic slots game, there are bar symbols such as single bar, double bar and triple bars except these are chocolate bars. There are also red cherry symbols and players can win automatically even if just one or two land on the pay line. You can even get any bar combination or any seven combinations. There are blue and orange sevens in the game below the potatoes and television. Get three couch potato symbols and you win the jackpot.
The TV potato symbol is also wild and can substitute for any other symbol except cherries. If one of these symbols are used to produce a match along the pay line, you win 5 times what you would normally win. If you get two of them, then you win 25 times the normal pay out, which is one massive hot potato!
Click on the image below to play the free flash game instantly and a new browser window will open in full screen. This no download game is powered by Microgaming and there are over 400 free slots and casino games to play there as well. No registration is required unless you are playing for real money.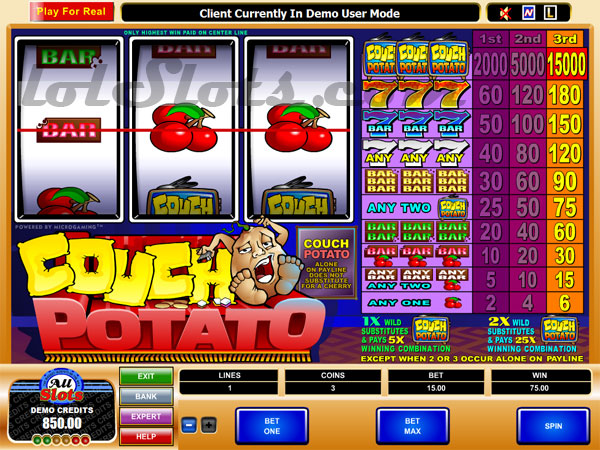 Click on the image above to instantly play the Couch Potato slot machine game in your browser.
(Opens in separate window in full screen.)
* As of 2023, US players are unable to play the slot machine game listed above. US players please click the banners below or on the left side to visit free slot machine games at US-friendly casinos.