Big Kahuna
Free Big Kahuna Slots Game
Big Kahuna is a tropical themed slot machine based in Hawaii. Kahuna is the name of an ancient magical shaman in Hawaiian tribal culture. The rest of the theme includes the tropical settings and objects found in the tropics and in tribes. This game is actually a very colorful and exotic video slots game and the theme is quite unique in comparison with other slots and this is one reason this game is highly popular online.
Big Kahuna slots has 5 reels like many video slots and has 9 pay lines. Players may wager 5 coins per pay line for a total of 45 coins. The betting limits range from $0.05 to $22.50. So if you are wagering with the lowest denomination, this would be an excellent nickel slot. The maximum denomination is a half dollar or fifty cents but betting on multiple lines, this can easily be said to be a dollar slot as well so the game is great for both low rollers and high rollers.
The symbols include of course the Kahuna, iguana or Komodo dragon, volcanoes, masks and the Big Kahuna. Other icons used in the game are tropical fruits found in the tropics such as pineapples, kiwi, berries, oranges, watermelons, and exotic fruits. There is also an old man face in there as well that acts as a scatter symbol. These do not need to land on the pay line in order for players to win. There are even two bonus games where players can potentially win well over 1000x multipliers. The free Big Kahuna symbol is wild and is also the jackpot symbol. A player can actually win an 8000x multiplier jackpot in this game!
Kahuna is powered by Microgaming and can instantly be played by clicking on one of the images of the game below. A new browser window will open in full screen and you will be able to play the free flash version of this online slots game with no download required. No registration is required either unless you want to play with real money. There are also 400 free flash slots and casino games in this flash interface for you to explore as well!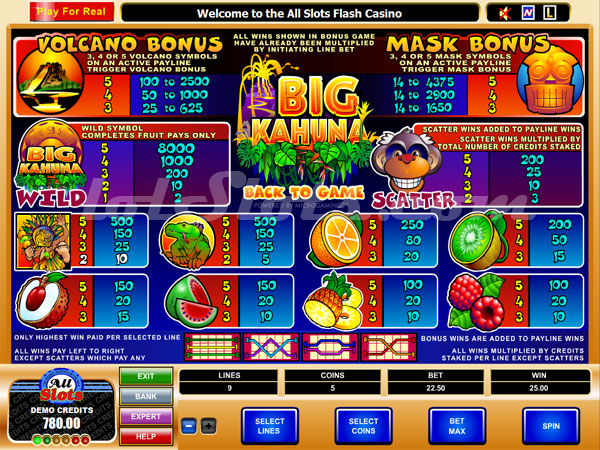 Click on the image above to instantly play the Big Kahuna slot machine game in your browser.
(Opens in separate window in full screen.)
* As of 2023, US players are unable to play the slot machine game listed above. US players please click the banners below or on the left side to visit free slot machine games at US-friendly casinos.