Big 5
Free Big 5 Slots Game
Big 5 slots is a safari and jungle themed slot machine with lions and African animals. The atmosphere of the game is peaceful and relaxing and it is not very complicated. As you'll see when playing this game, there are images of lions, rhinos, water buffalos, elephants and tigers out in the brush. Although you will not actually see these wild animals as symbols on the slot reels except the lion.
This game is a simple free classic slots game with only one pay line. Players may wager up to three coins on a single bet as the maximum. The coin denominations are typical for a classic slots game and the coin sizes range from $0.25 to $5. So players who like quarter slots and dollar slots will enjoy this game. Using the maximum bet on $5, the slot machine limit is $15 per spin for the high rollers.
The symbols in Big 5 include the typical classic symbols such as the red cherries and the single bar. There are no double or triple bars but there is the Big 5 bar. Lining up any bar will also win a prize as well. The jackpot symbol of course is the lion, the king of the jungle. Line up three of the lions on the pay line and you will win a 2400 multiplier. Because there are so few symbols, a single pay line and a smaller jackpot, the payout percentage odds of this game are extremely high and this game will be a lot of fun to play.
Clicking on the image below will open up the game in full screen on a new browser window and it will instantly be ready to play. This game is powered by Microgaming and operates on free flash shockwave and macromedia software. No download is required and no registration is required unless you want to play with real money. There are also over 400 casino and online slots games to play in this flash interface.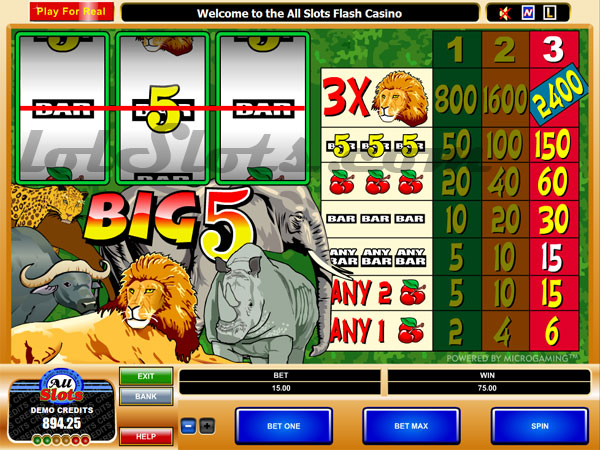 Click on the image above to instantly play the Big 5 slot machine game in your browser.
(Opens in separate window in full screen.)
* As of 2023, US players are unable to play the slot machine game listed above. US players please click the banners below or on the left side to visit free slot machine games at US-friendly casinos.