Belissimo
Free Belissimo Slots Game
The belissimo slot machine is based on a chef or pizzeria cook for in old time Italian restaurant. The world belissimo itself means "beautiful or handsome" in Italian as well. This game is a multiple pay line slot machine of the classic type that can be played online. Like most classic slots, most of the symbols are bars and sevens but there is also the belissimo chef symbols that are used to win the jackpots.
Belissimo has 5 pay lines where players can bet one coin per line. The denominations of coins that can be used in this game range from $0.25 to $5. This game is great for players who love quarter slots or five dollar slots. Betting on all five pay lines with the maximum limit bet would be $25. As a matter of fact, the jackpot on this game is very generous. The maximum bet with $25 per spin would have a 5000x multiplier or a possible $125,000 jackpot.
This symbols used are the regular black bars used in classic slots such as the single bar, double bar and triple bar. Players can line up any bars and still win as well. Then there are the sevens with the brick stone fire oven. The Italian chef counts as a wild symbol and the jackpot symbol. There aren't a whole lot of symbols in the game, which makes it very simple to play without all the complex pay tables and bonus rounds either.
This game is powered by Microgaming casino software. Clicking on the images below will open up the game in full screen in a new browser window. You will instantly be able to play this game in seconds with no download required. No registration, username or email is required unless you would like to play for real money or for long term. The game is also powered by flash shockwave and macromedia as well. Besides belissimo, there are over 400 other casino and slots games that can be played in this flash interface and the real casino supports 17 languages with multiple currencies.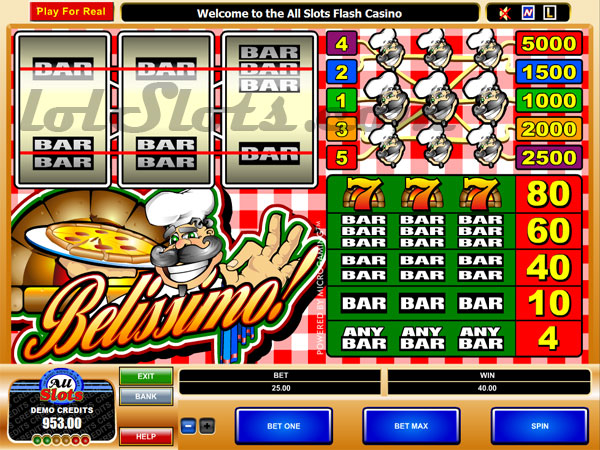 Click on the image above to instantly play the Belissimo slot machine game in your browser.
(Opens in separate window in full screen.)
* As of 2023, US players are unable to play the slot machine game listed above. US players please click the banners below or on the left side to visit free slot machine games at US-friendly casinos.